The name in Sanskrit means "perfect bliss".
The music is an enchanting blend of piano and violin.
The inspired original instrumental compositions are a  
merger of Celtic, Classical, and New Age influences.
The intent is to calm, to comfort, and to heal.
Sit back and listen for just a bit...and breathe.
"Comfort and Joy" Now Live on Pandora!
You can now listen to Ananda's Christmas album,
"Comfort and Joy"
on
Pandora
at
http://www.pandora.com/station/play/2864470744807179015
. The station,
Ananda (Holiday) Radio
plays a great mix of holiday music including our songs. Check it out and please share it with your friends. Thanks to the folks at Pandora, and to you for your support! 
They're Playing Our Song!
Thanks to Women of Substance Radio for adding "Hearts A' Sail" to their playlist. 

Thanks to Women of Substance for playing Ananda Christmas music over the holidays..

Thanks to everyone who listened, liked, and requested our Ananda songs on Women of Substance Radio. Thanks to you, "Mother's Lullaby", that aired on the Mother's Day Show, landed at #10 for the month of May 2015! So thank you very much!

Women of Substance Radio will continue to air our Ananda songs if you will just request them. You can help us keep them playing by visiting www.wosradio.com and listening, liking (thumbs up), and requesting the songs for us. We would be forever in your debt. And you will hear some really fine music by other female artists you may otherwise never meet. Thank you! And thanks Bree  Noble and Women of Substance Radio for playing our songs!

Go to www.wosradio.com and click the Request a Song button. "Song for Japan" (for the 2011 Tsanumi victims), "Mother's Lullabye" (for PJ's Mom), and  "Angelica" (for Annie) are all still in rotation. Thank you so much! We truly appreciate your support!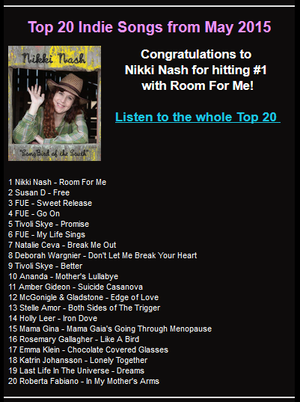 Ireland Tour November 2016
We took our Ananda music across the pond in November 2016 to Ireland, the land of our roots. We had a lovely little tour of the Emerald Isle. It was a journey we hope to make again some day. 
​​​​​​​